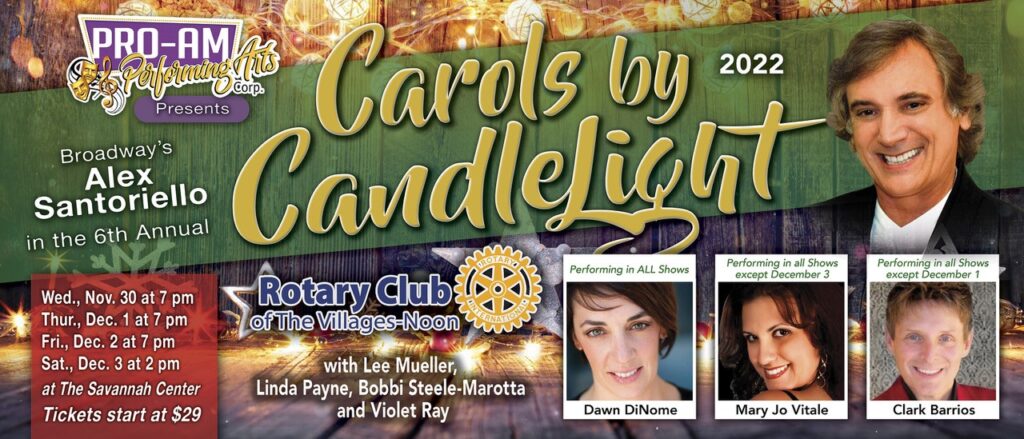 Broadway's Alex Santoriello, Dawn DiNome, Clark Barrios & Mary Jo Vitale return to star in the 6th annual, "CAROLS BY CANDLELIGHT", benefitting the Rotary Club of The Villages Noon. Lee Mueller, Linda Payne, Bobbi Steele-Marotta & Violet Ray also star. GUARANTEED to put you in the holiday spirit with Santa & his elves, carols, candles, snow & a live band with Bob Wilson, John Gaffney, Justin Steger, & Michael Abbott.
Part of our proceeds from Carols by Candlelight go directly to Camp Boggy Creek in Eustis, FL.
What is Camp Boggy Creek?
CAMP BOGGY CREEK was founded in 1996 by Paul Newman and General H. Norman Schwartzkopf with one simple premise in mind; that every child, no matter their illness, could experience the transformational sprit and friendships that go hand in hand with camp.  It was their dream that Camp
Boggy Creek would provide seriously ill children with a fun-filled experience defined by compassion, laughter, and acceptance.
Since 1996, Camp Boggy Creek has made it possible for children with serious illnesses to fully enjoy a camp experience in a safe, medically-sound environment.  Located in central Florida, the 232 acre camp serves children ages 7-16 who have been diagnosed with chronic or life-threatening conditions.
Camp Boggy Creek never charges campers to attend and never asks them for any contributions other than their positive, playful attitude.
As a year-round retreat, Camp Boggy Creek is able to provide an activity-packed week of programs for thousands of campers and their families.  The camp offers children the chance to catch their first fish, go horseback riding, or climb the ropes tower, all while making new friends and creating memories they will cherish for the rest of their lives.  And beyond the endless fun, Camp Boggy Creek provides fellowship.  Children can spend time with others who are just like them and share their life experiences, which serves as a reminder that they are not alone.